Reigning titleholder Magnus Carlsen and challenger Ian Nepomniachtchi met side-by-side at the opening press conference of the 2021 World Championship, fielding questions from gathered media and taking their chances to demonstrate confidence – and mutual respect – in a warm-up battle of wits. They meet face-to-face when their 14-game duel for the title begins on November 26th.
The whole video os the press conference is available at http://virtualexpodubai.com. Photos in high resolution are at the disposal of the media at FIDE's official Flickr.
The panel included FIDE President Arkady Dvorkovich, and representatives for event partners Kaspersky and PhosAgro. PhosAgro has sponsored title matches starting with Sochi in 2014, and Andrey Guryev, CEO as well as vice-president of the Chess Federation of Russia (CFR), began by excusing himself to Magnus for openly hoping Ian could bring the crown back home, emphasizing the desire to rekindle interest there: "We are trying to increase the popularity of chess among young people, to instill an interest in the game among schoolchildren."
The Q&A session was then kicked off by panel chairman and match commentator Maurice Ashley, who wanted to know how both players felt now that the contest was finally at hand after months of preparation.
Ian's "I can't wait to actually get started" was delivered with a calm smile, and Magnus raised the banter level by saying: "I'm going to feel better in a few days," leaning back, arms crossed, with a wide grin.
When asked why they were going to win this match, Carlsen chose to deflect and joke that he 'predicted' the victor would be the one with the most points over the coming three weeks, while Nepomniachtchi opted for "Normally, I think the best player wins," and looked pleased to have found a simple, confident answer that looks neutral in print.
Chess press conferences can be unpredictable, but this session was lengthy and lively, with the players tackling topics ranging from their thoughts on an eventual female world title challenger, the impact of technology on match preparation, if online blitz games could provide inspiring new ideas, the extent of their much discussed friendship, to which famous footballer they would compare the other to.
The players complimented several of the questions, and after the slightly cheeky start, the answers grew more serious and the interplay carefully respectful. Nepomniachtchi's summary of prior good relations between the two was particularly striking and quotable: "Once you sit at the board, you have no friends."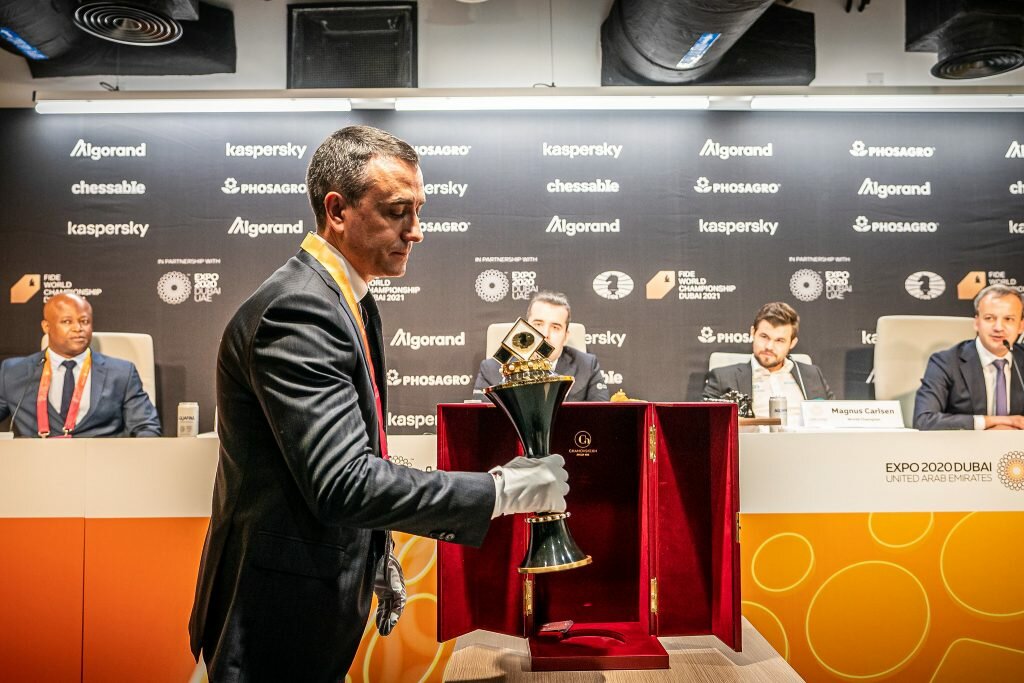 The unveiling of the match trophy, an impressive five-kilo cup forged from sterling silver, gold plating, dolerite and obsidian, created by the Chamovskikh Jewelry House, concluded the conference. When asked to pose with the Championship Cup, Magnus ended the day with a final show of respect, refusing with the words: "That would be highly inappropriate."
Press Officer
Jonathan Tisdall
press@fide.com
Visit: www.expo2020dubai.com
Twitter: @expo2020dubai
Facebook: @Expo2020Dubai
Instagram: expo2020dubai

Expo 2020 Dubai
On call contact
Email: press.office@expo2020.ae
Tel: +971 56 688 9509
P.O. Box 2020, Dubai, UAE

For media inquiries, please contact:

International Chess Federation
Media relations
David Llada
press@fide.com
+34 623021120